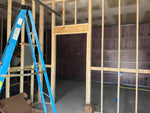 This is happening! Very Grateful!
Eight months ago I set out on a journey to sow strong seeds in our community through better food. The goal was to accomplish this through making the best tasting, healthiest bar on the planet.
It has not been an easy journey. Copackers rejected our concept and said it was to difficult to make our bar, I was advised to change the recipe. Investors rejected us. I'll never forget the day I spilled pumpkin seeds all over my car and two food processors broke in the same day🤣! There were times I questioned if what I was doing was worth all of the work. Couple this with the blessing of another business and the blessing of 4 kids and my lovely wife, there were several times I wanted to throw in the towel. But the relentless pursuit of the goal of serving others through this and the reaction that people had when they tasted the bar kept me going! I love this!
Today I'm grateful to announce that in May we are moving into our own kitchen space at The Junction in Hilliard, Ohio. Here we will be able to make 1000 bars a day and serve the community of Hilliard and Columbus with a store front! I believe that God opened up this door for us.
Also, we made a new addition to our team. Our new addition has worked at Google, Amazon and Microsoft and happens to be my brother the one and only Matt Kershaw has joined Sow Strong Food! Grateful that I get to work with him and Ben. Also, thanks to the great Cierra Allen for the support thus far.
Lastly, we are working on two new flavors. Kapow Cacao and Goji Berry and we will be gluten free beginning in April!
Sow Strong!