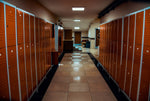 The fall of 2016 was the first time in my life I heard the term "locker room banter". The term was tossed around as an excuse after a political candidate was caught by a microphone saying something inappropriate about a lady. Though it was my first time hearing the term "locker room banter" I knew exactly what the term meant, as I assumed any man who has spent significant time in locker rooms did as well. It meant careless, vulgar conversation.
Now having four beautiful, powerful daughters my perspective on "locker room banter" has shifted dramatically. Having children has made me realize that every word I say, whether it's careless or intentional carries weight. My words are sowing seeds and I will reap the fruit of my lips.
The same is true with food. If we continue to carelessly sow junk food into our bodies and junk marketing into our communities we will continue to reap lives that are unhealthy and render us all useless and ineffective. Let's Sow Strong Seeds!
Update: We have partnered with our third Central Ohio Gym! Thank you Hard Fought Fitness! Eleventh Element -Crossfit Hilliard and Lagree House!
The Sow Bar will be available to order online for all of Central Ohio April 16th!
Feedback: As we build our website we're looking for your input! Here is our company T-shirt! We want an army of Strong Sowers in Central Ohio! Please let me know if you like the shirts and if you would like for us to have the shirt available to order on our site along with The Sow Bar.