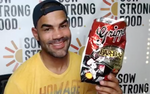 Grippo's and Homage t-shirts.
In 2013 I was introduced to Homage (clothing brand) and I admired the brand because it was more than just t-shirts. The shirts reminded me of times of playing video games with my brothers and watching WWF. The company spoke to my heart. Then Homage added the "H" to the sleeve of their shirts and like most companies that get a huge injection of cash from a bigger brand, Homage turned away from its original mission and the company no longer seemed authentic.
I compare Homage to another Ohio company, Grippo's. I'm certain that Grippo's could have sold to a bigger snack company but over the 102 years Grippo's has been in business, they have maintained their quality, even when they were forced to change their recipe due to trans fats.
I'm extremely grateful that we have been operating with no outside investment meaning that we do not have to answer to anyone pressuring us to dilute our mission in exchange for money. We want to make make sure that our bars keep the original mission, which is Sow Strong seeds into the lives of our people and community.
Update: The Sow Strong Kitchen is almost ready and we will be able to make thousands of bars a day! Thank you to everyone for your patience and support!
Sow Strong!