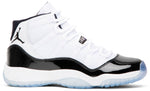 This is Dangerous.
On December 23rd, 2011 Nike released the Air Jordan 11 Retro Concords. Thousands of people from across the country waited outside of malls and shoe stores for a chance to by a pair of these iconic shoes. What followed was horrific. Across the country police were called to stop violent scenes of fighting and to prevent crowds from breaking into malls before the stores opened. One news source reported that law enforcement broke a car window to save two toddlers whose mother left them in the car to wait in line to buy shoes.
Dangerous dysfunction disguised as expensive taste. 
What caused this pandemonium? Why did people covet these shoes? I think I have the answer. It's status. These shoes gave its buyers a false sense of status amongst their peers and in their community. The buyers wanted status so much that they were willing to fight, break in, and even leave their children in the car for status. 
Unfortunately I can relate to this. I remember there was a time that I justified buying Jordans to connect with students when I was asked to speak at schools. I saw it as a chance to get instant "clout" with the kids I was speaking to. That was until I went into a school that wasn't in an affluent zip code. For me to get these kids to aspire to get nice shoes was not only poor judgment on my part, it was disrespectful to their potential. Studies have shown that the greatest determinate of success for any person is ZIPCODE, or where you live. In "Blue Zones," (which are regions of the world were people have long life expectancies) I would wager that the people that live there don't fight and bleed for cool shoes. They Sow Strong Seeds with meaningful relationships, healthy food and peaceful thinking. 
Update: Thanks to popular demand we are moving into our own kitchen, The Sow Strong Kitchen is underway and will be open soon so that we can make more of the best tasting, healthiest bar on the planet! Thanks for all of the support! We are very grateful!
(Josh Garrels quote mentioned)